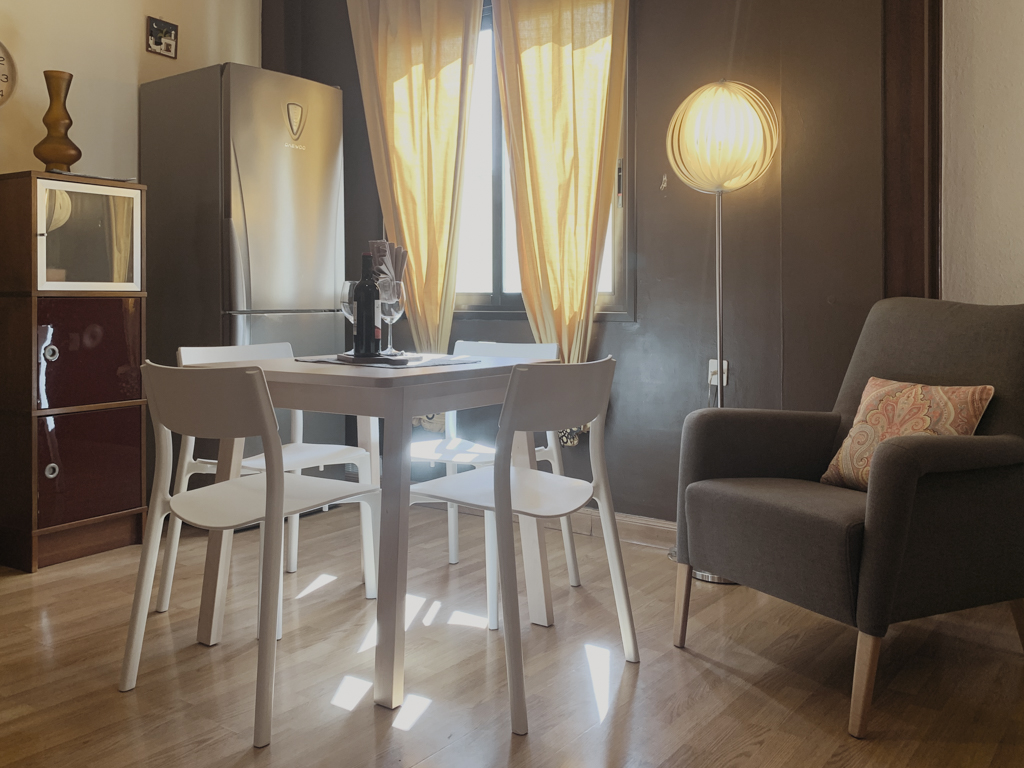 DREAM APARTMENT
---
Historical neighbourhood in the center, quiet & cosy.
---
Sleeps : 4 Sleeps
Area : Up to 59 m²
Bedrooms : 1 Bedroom
Full beds : 1 Full Bed
Sofa beds : 1 Sofa Bed
Bathrooms : 1 Bathroom (with Shower)
Features : Equipped Kitchen , Balcony , Smart TV , Washing machine , Wifi , Fan , Non-smoking , Non-pets , Cable Channels , Fridge , Oven , Microwave , Toaster , Cofee Machine , Kettle

---
30-day money-back guarantee
Free Shipping in U.S.
Buy now, get in 2 days
From
1 Bedroom
1 Full Bed
1 Sofa Bed
1 Bathroom (with Shower)
MORE FEATURES
4 Sleeps
Up to 59 m²
Equipped Kitchen
Balcony
Smart TV
Washing machine
Wifi
Fan
Non-smoking
Non-pets
Cable Channels
Fridge
Oven
Microwave
Toaster
Cofee Machine
Kettle
Dream Apartment is located in the historical neighbourhood of the capital Santa Cruz – Toscal. Just a few minutes walking from the apartment is the vibrant calle Castillo – the main shopping street of Tenerife. A shopping center, many restaurants & bars are located at very close distance.
Dream Apartment features a spacious kitchen and dining room, equipped with an oven, a microwave, a kettle, a coffee machine and a fridge. The dining table is suited for 4 people.
Nextdoor is the living room, with a large extendable sofa bed for 2 people. It also features a LED smart TV with more than a 100 international cable TV channels. Free high-speed wifi and reliable internet connection by Vodafone is available throughout the Dream apartment.
The bedroom offers the comfort of a full bed, a big wardrobe and a practical chest of drawers. It also has a balcony for a breath of fresh air, and why not a morning coffee.
The bathroom has a shower, a hair dryer. Free towels and bed linen are provided.
No smoking is allowed in the apartment.
The flat is on the 3-rd floor and no lift is available at the moment.
Free public parking is available along the nearby streets.
Tenerife North airport is just 20 mins. away by car.

 50 m² 


BEDS DISTRIBUTION
Bedroom: 1 Full bed 
Living room: 1 Sofa bed 
    COVID-19 SECURITY MEASURES