Tenerife is a destination known for its idyllic beaches and unbeatable weather, but you will also find beautiful villages with stories that will impress you.
In this post we will tell you about the municipalities of Tenerife that you should not miss on your visit to the island. Read on to know them!
1. Santa Cruz de Tenerife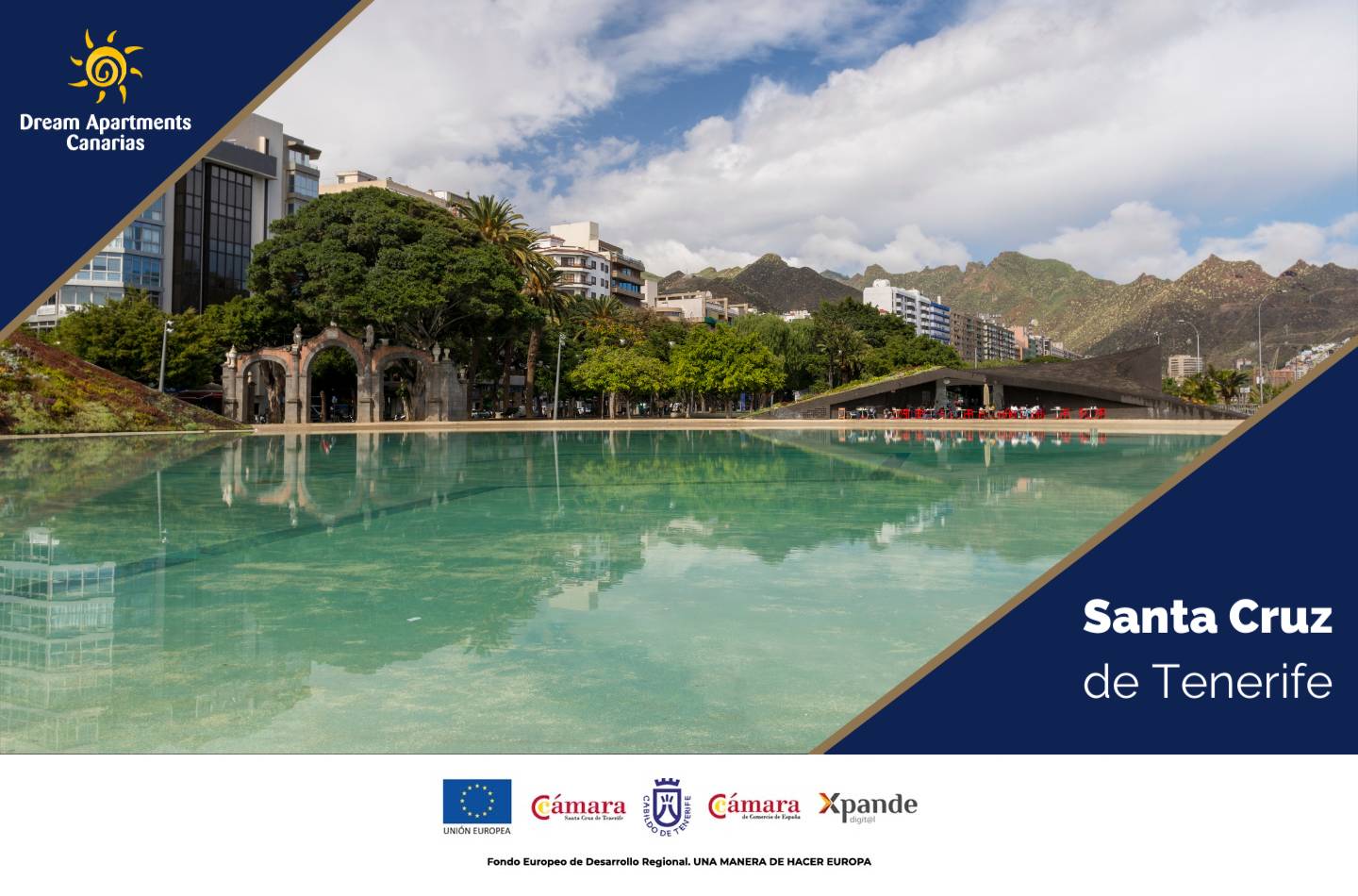 It is the capital of the island, a city that will fascinate you with its emblematic buildings, parks, streets, trails, parties and beaches. What stands out most of Santa Cruz are its contrasts and its diversity of climates, combining in this way urbanism with nature and modernity with tradition. In addition, Santa Cruz has a strategic location with excellent communications with the rest of the island, so it is one of the best cities to stay, from which you can visit the rest of the ones we propose.
If you intend to visit the capital, do not forget to make the following 10 mandatory stops:
Auditorio de Tenerife Adán Martín

Plaza de España

Museo de Naturaleza y Arqueología (english: Museum of Nature and Archeology)

Tenerife Espacio de las Artes (TEA)

Nuestra Señora de África market

Palmetum

Parque García Sanabria

San Juan Bautista castle

Nuestra Señora de la Concepción church

Plaza de la Candelaria
2. San Cristóbal de La Laguna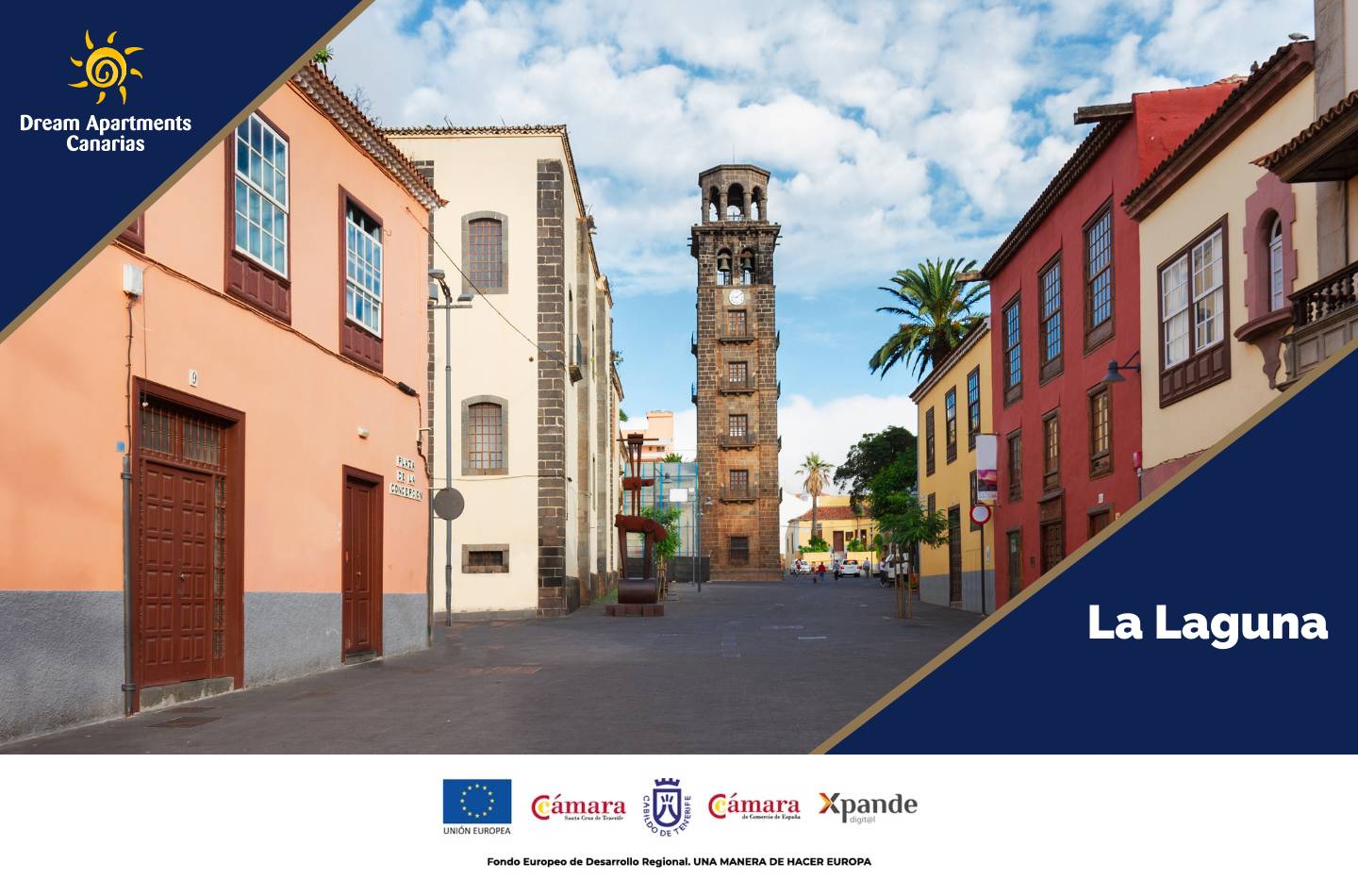 This municipality, whose streets are full of monuments and historic buildings, was declared a Cultural and World Heritage Site by UNESCO in 1999. Its palaces, churches, theatre, stately homes and lively streets make La Laguna a must-see place if you are traveling to Tenerife.
In this city you can enjoy a rich commercial, gastronomic and leisure activity. Among its places of interest, we include:
Plaza del Adelantado

Iglesia de la Concepción

Museo de la Ciencia y el Cosmos (english: Museum of Science and the Cosmos)

Teatro Leal

Santa Iglesia Catedral de Nuestra Señora de Los Remedios

Mesa Mota

Obispo Rey Redondo street and Herradores street

Museo de Historia y Antropología (english: Museum of History and Anthropology)

Parque La Vega

Mercado Municipal De La Laguna in Plaza de El Cristo
3. Masca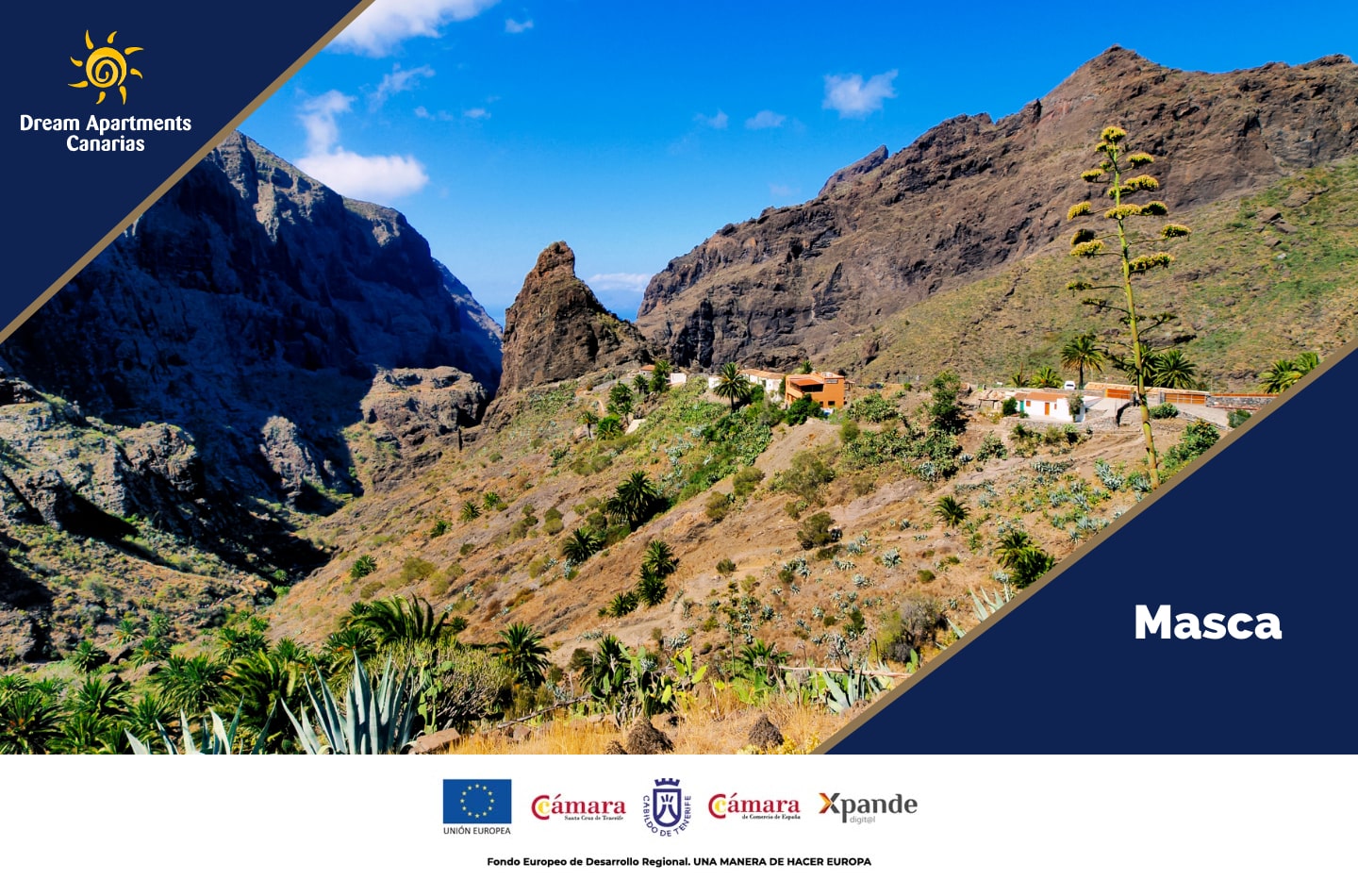 This small village, located in Teno Rural Park and surrounded by an impressive mountain landscape and ravines, has been declared a Site of Cultural Interest with the category of Historic Site. In addition, the Masca ravine, home to a wide variety of endemic species and endangered plants, is a place to do one of the most impressive hiking trails in Tenerife.
If you want to admire this remote place, you can not miss Plaza de Masca, the Masca Museum, its stone houses and its ravine. The landscapes are dreamlike!
4. Puerto de la Cruz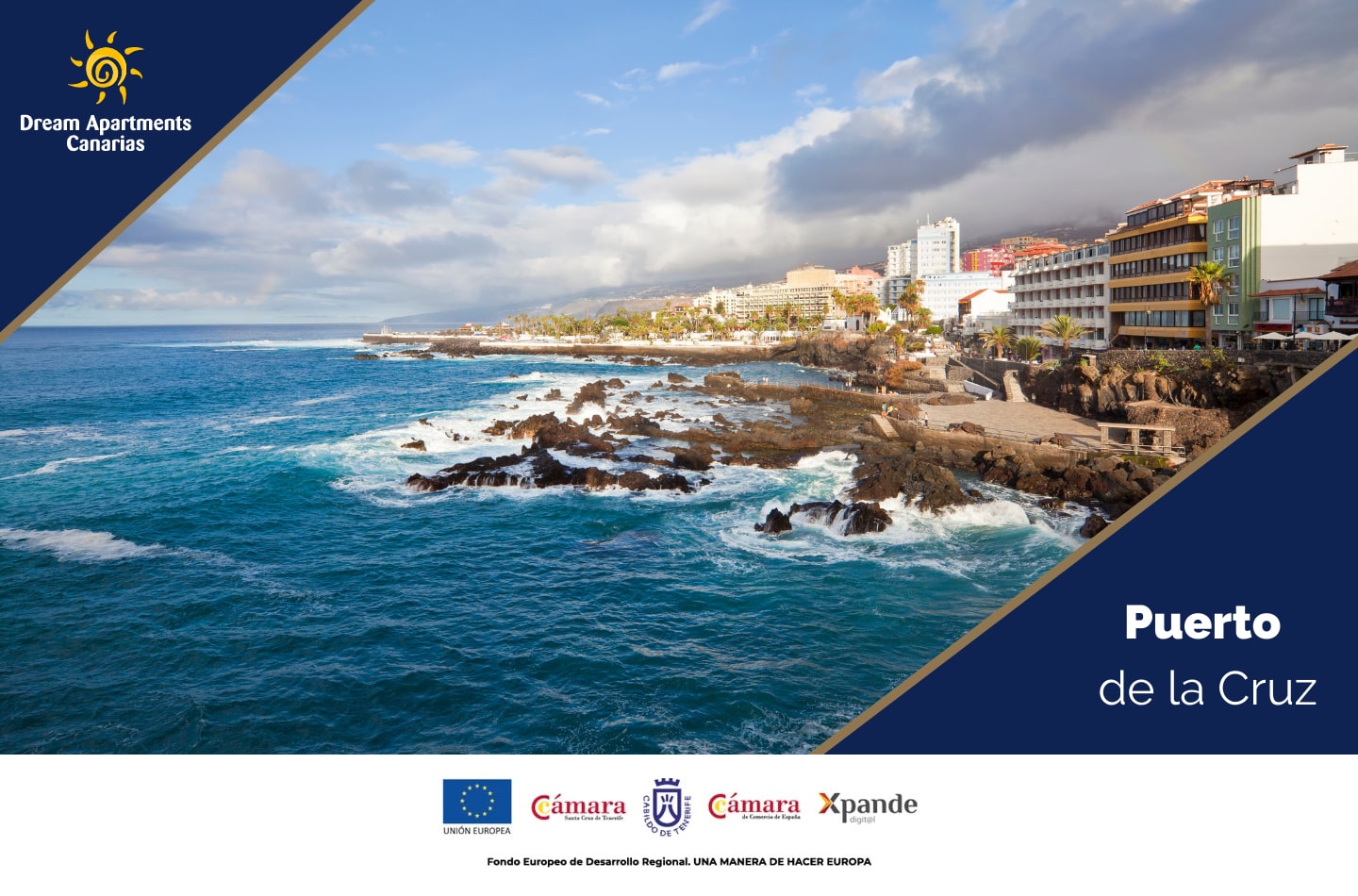 Puerto de la Cruz, declared National Tourist Interest since 1995, is the smallest municipality in Tenerife, with less than 9 square kilometers. However, tourists who visit it are dazzled by its black sand beaches, the cobbled streets of the old town and its beautiful gardens. Celebrities such as Agatha Christie, Michael Jackson and The Beatles have visited this northern city.
You can do here many active tourism activities such as paragliding, diving, bodyboarding, surfing and hiking. If you decide to discover this city you may want to contemplate the beauty of these beaches:
Playa Jardín

Playa Martiánez

Playa el Bollullo

Playa de Los Patos
Besides, you will have the opportunity to visit Jardín Botánico (spanish for "Botanical Garden"), Loro Parque and the pools of the Costa Martiánez complex, commonly called as "Lago Martiánez". Other attractions are the Paseo de San Telmo, the Castillo de San Felipe, the Church of Nuestra Señora de la Peña de Francia, the Archaeological Museum of Puerto de la Cruz, the Taoro Park, the Plaza de Europa and the Plaza del Charco.
5. Candelaria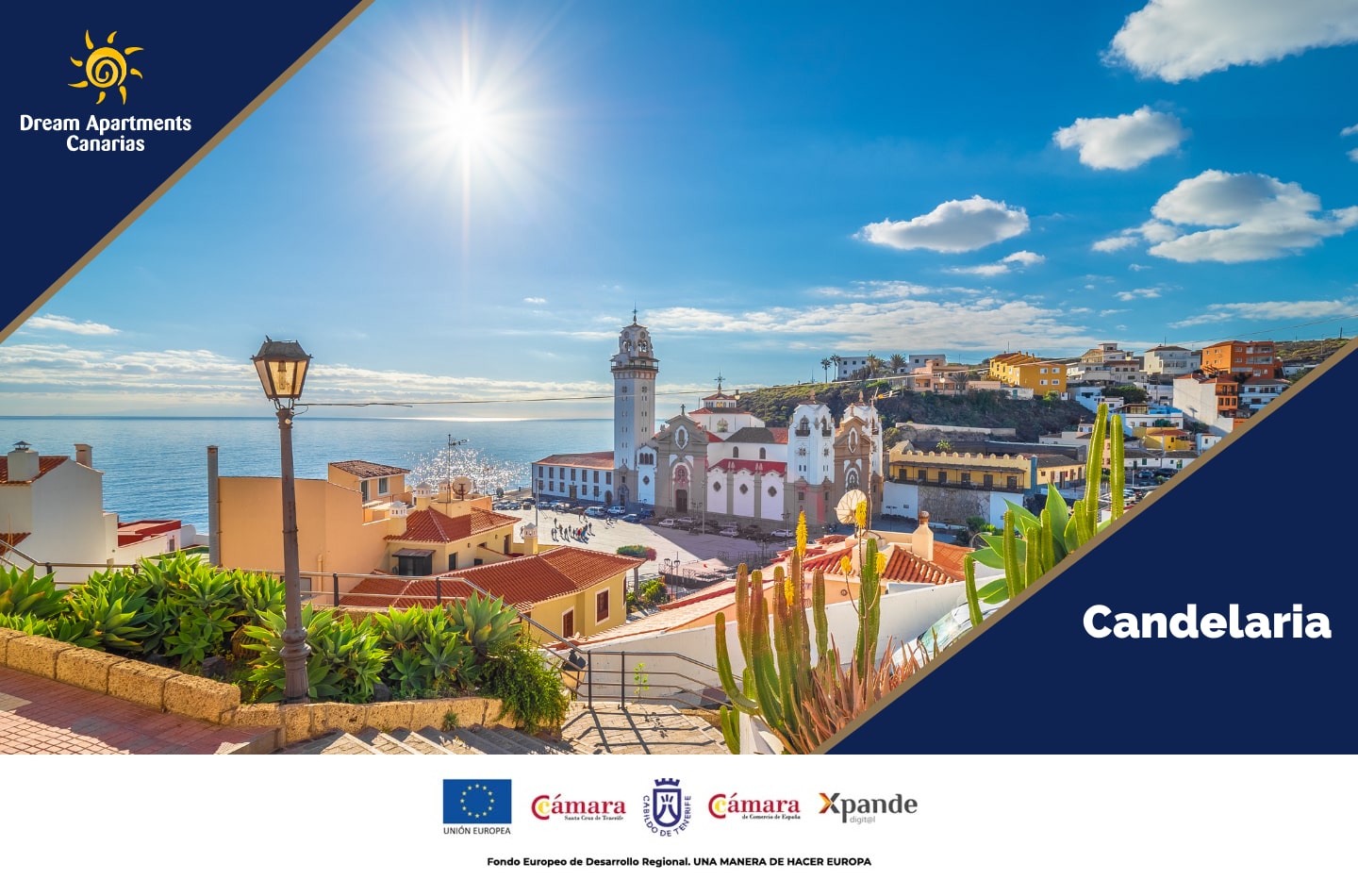 Candelaria is a city in Tenerife with a great religious spirit. It is where the Basilica of Nuestra Señora de la Candelaria is, which has been declared a Site of Cultural Interest. Every year, on the night of the 14th to the 15th of August, thousands of people make pilgrimages from different parts of the island to the basilica to honor the Virgin of Candelaria, patron saint of the Canary Islands.
Its surroundings are marked by caves, beaches, different natural ecosystems and stunning landscapes. It also has different places of interest such as the Old Town Hall, the pottery center (Casa de las Miquelas), Real Convento de Nuestra Señora de la Candelaria (or the Convent of the Dominican Fathers), Plaza de la Patrona de Canarias or the Church of Santa Ana.
6. Los Cristianos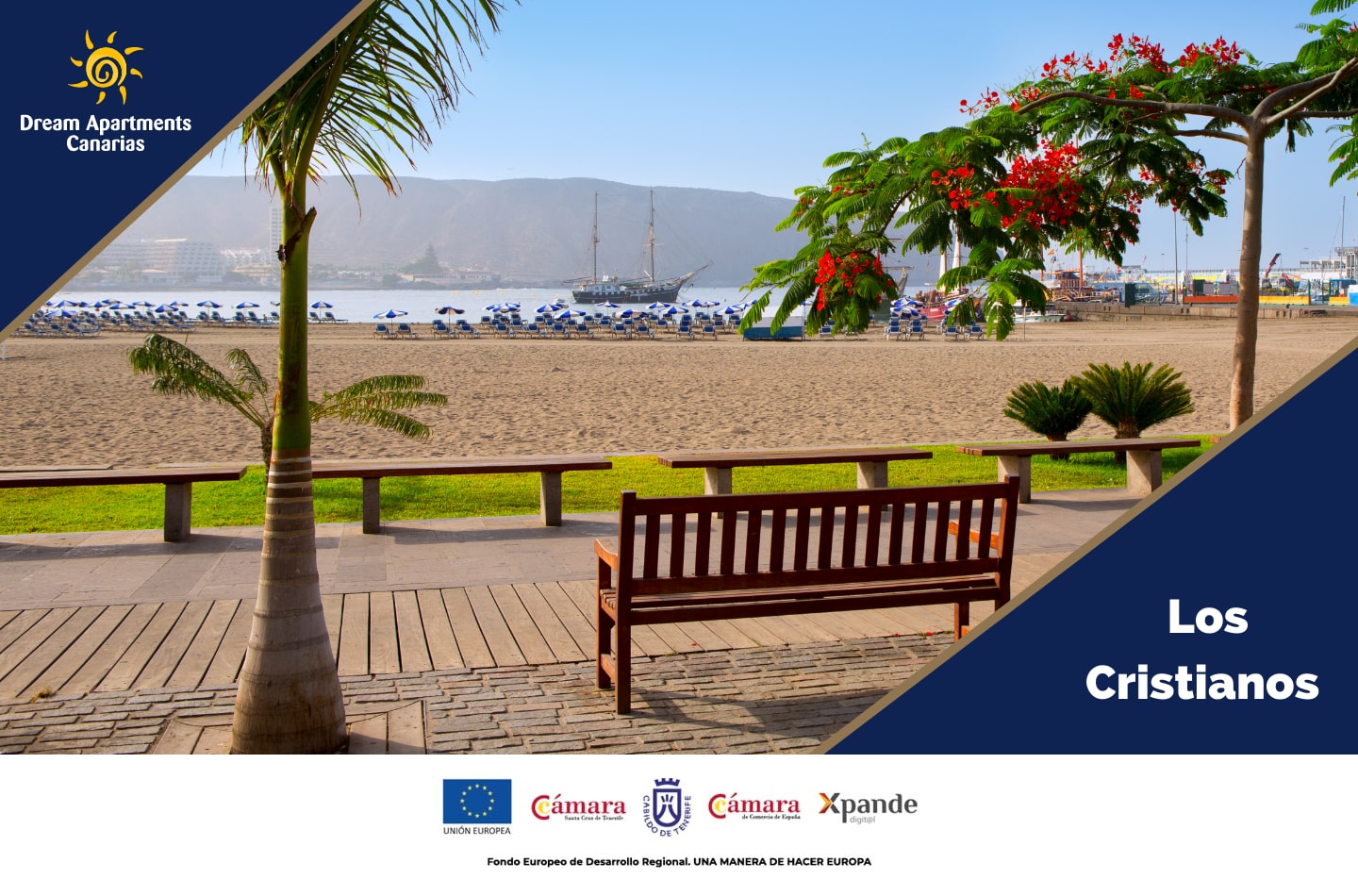 Los Cristianos is a town in the south of Tenerife, within the municipality of Arona. Its beaches, port and animation have placed it as one of the most popular tourist destinations on the island.
This site offers the possibility of doing all kinds of activities such as fishing, diving, kayaking, visiting theme parks and making excursions on tourist boats.
If you are going to the south of Tenerife, we recommend you to visit Los Cristianos to enjoy firsthand Los Cristianos beach and Las Vistas beach, two beaches fully equipped so you will spend a quiet day, with seaside restaurants or beach bars and showers to remove the sand and salt at the end of the day. Besides, here you will see a spectacular sunset!
7. Icod de los Vinos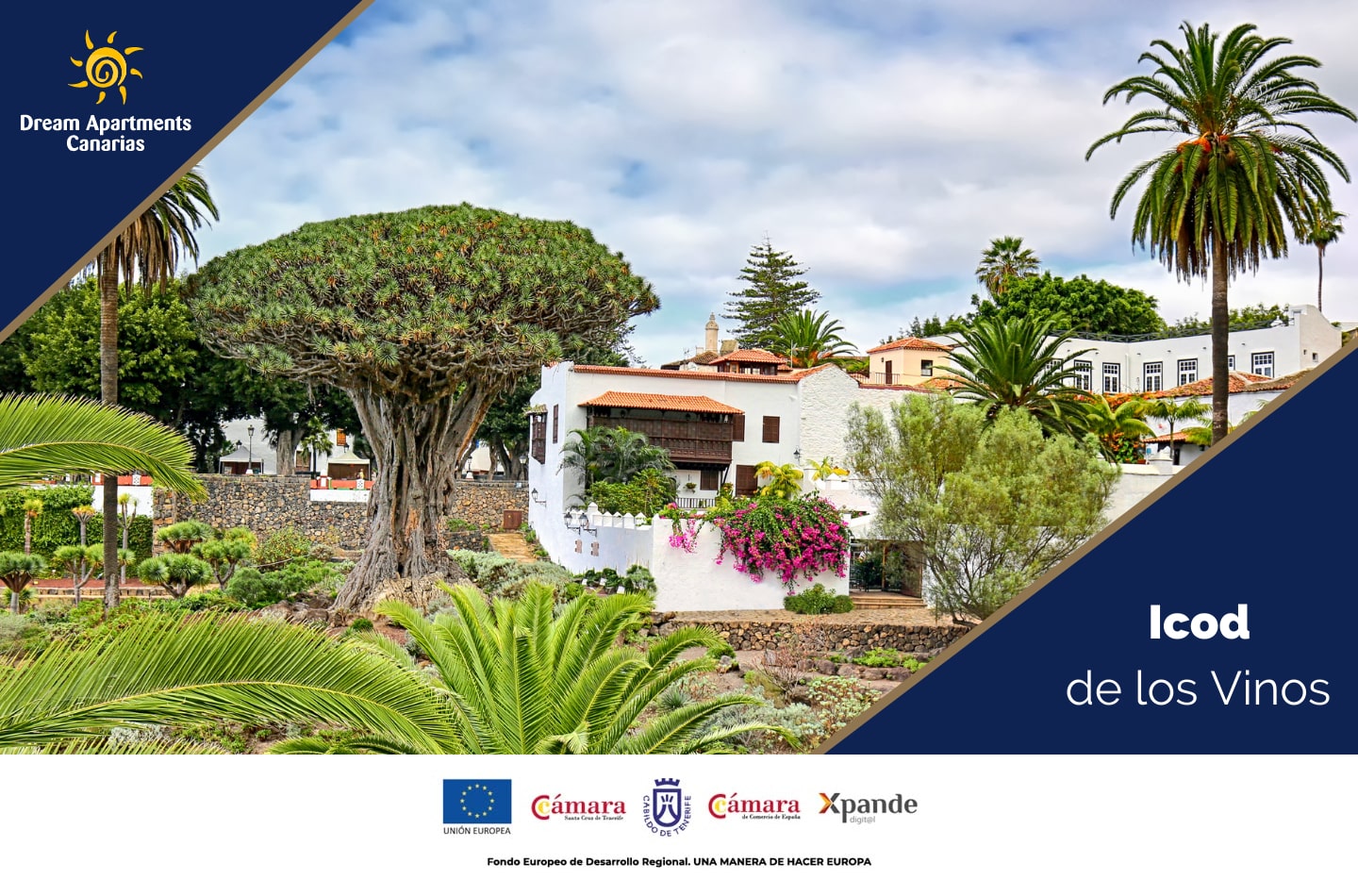 This historic town in the northwest part of Tenerife is full of charming small squares and lovely stone-made streets. It is especially recognized by the Drago Milenario (Ancient Dragon Tree), declared a National Monument in 1917 and the oldest and largest dragon tree we know.
Icod has one of the best views of Teide and if you visit it, you cannot miss the following points of interest:
Plaza de San Andrés Lorenzo Cáceres

Casa del Drago

Plaza de la Pila

Parque del Drago (literally traslated as Drago Park), where the dragon tree is

La casa del Plátano

Museo Guanche, a museum where you will learn part of the history of the aboriginal people of the Canary Islands

Cueva del Viento, one of the 10 largest volcanic tubes in the world.
8. Garachico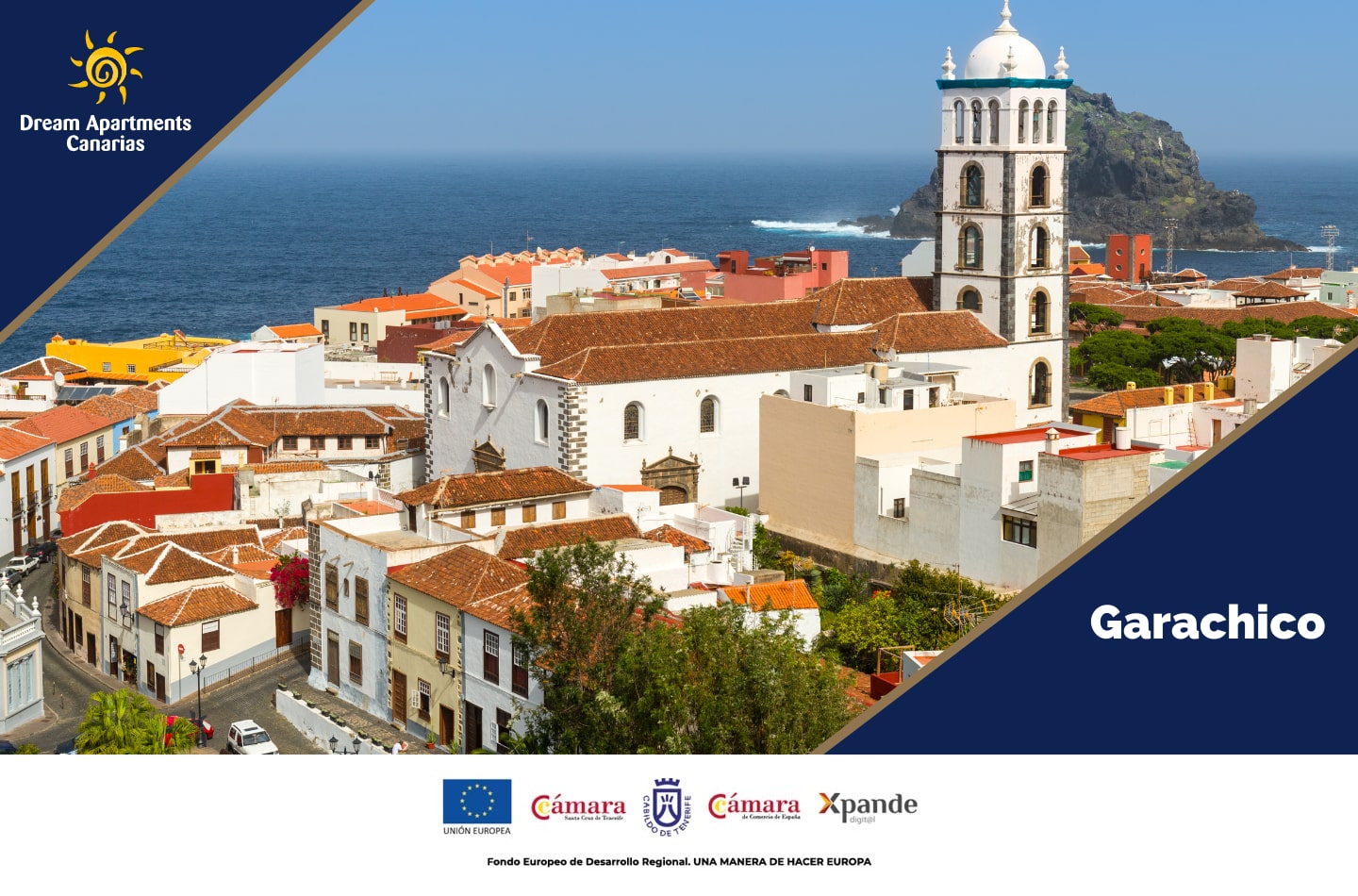 Garachico is a town that delights everyone who visits it. Its excellent architectural heritage was declared a Site of Cultural Interest at the end of the 20th century. Because of this fact, walking through its historic center is a totally enriching experience in which you can observe and photograph its cobbled streets, its historic buildings and its farms.
Furthermore, its coast, surrounded by imposing cliffs, has a beach where you will relax and disconnect from the world, called Playa de Las Aguas, as well as a set of natural pools in which you will enjoy the sea as never before, the Natural Pools of El Caletón.
If you visit this town you cannot miss:
Casa de los Molinos

Casa de los Ponte

Casa del Marqués de la Quinta Roja

Casa Palacio de los Condes de la Gomera

San Miguel castle

Convento de Concepcionistas Franciscanas

Convento Dominico de Santo Domingo

Ermita de San Roque

Parque de la Puerta de Tierra

Church of Santa Ana
Although it seems we have suggested too many places, Garachico is a small town where in a single day of walking you can see all these places. You will not regret it!
9. La Orotava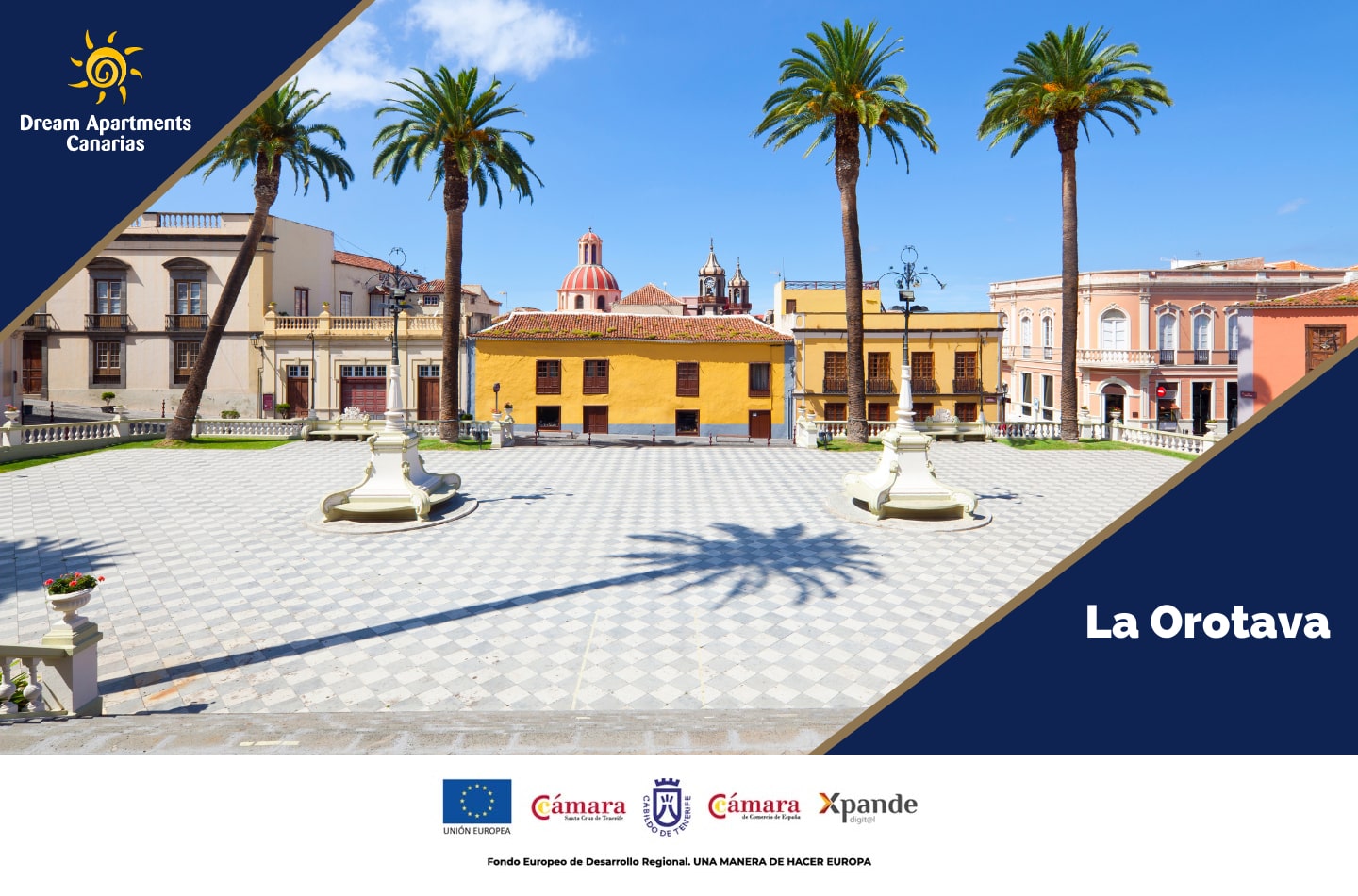 If you are looking to know the history of Tenerife to the fullest, visit La Orotava is the best choice. Its historic quarter, declared a Historic-Artistic Site (1976), blends with landscapes and protected natural spaces to form an iconic image. After visiting La Orotava, you will understand why it is considered one of the most beautiful municipalities on the island.
The main points of interest of the municipality you should visit are the following:
The town hall

Casa de los Balcones, an old stately home

Casa Lercaro, another old stately home

Hijuela del Botánico, a beautiful garden

Church of La Concepción

Church of San Juan Bautista

Jardines del Marquesado de la Quinta Roja, gardens that belonged to a marchioness

Liceo de Taoro, an old palace

Museo de las Alfombras, a museum dedicated to the traditional carpets of La Orotava

Plaza de la Constitución, a square worth visiting
It should be noted that La Orotava is the largest municipality on the island, covering an area of 207.31 km2. In addition, 78% of the territory occupied by the Teide National Park belongs to the municipality of La Orotava. Its valley, crowned by Teide, is a picture worthy of a film cover. You must look at it with your own eyes!
10. Tegueste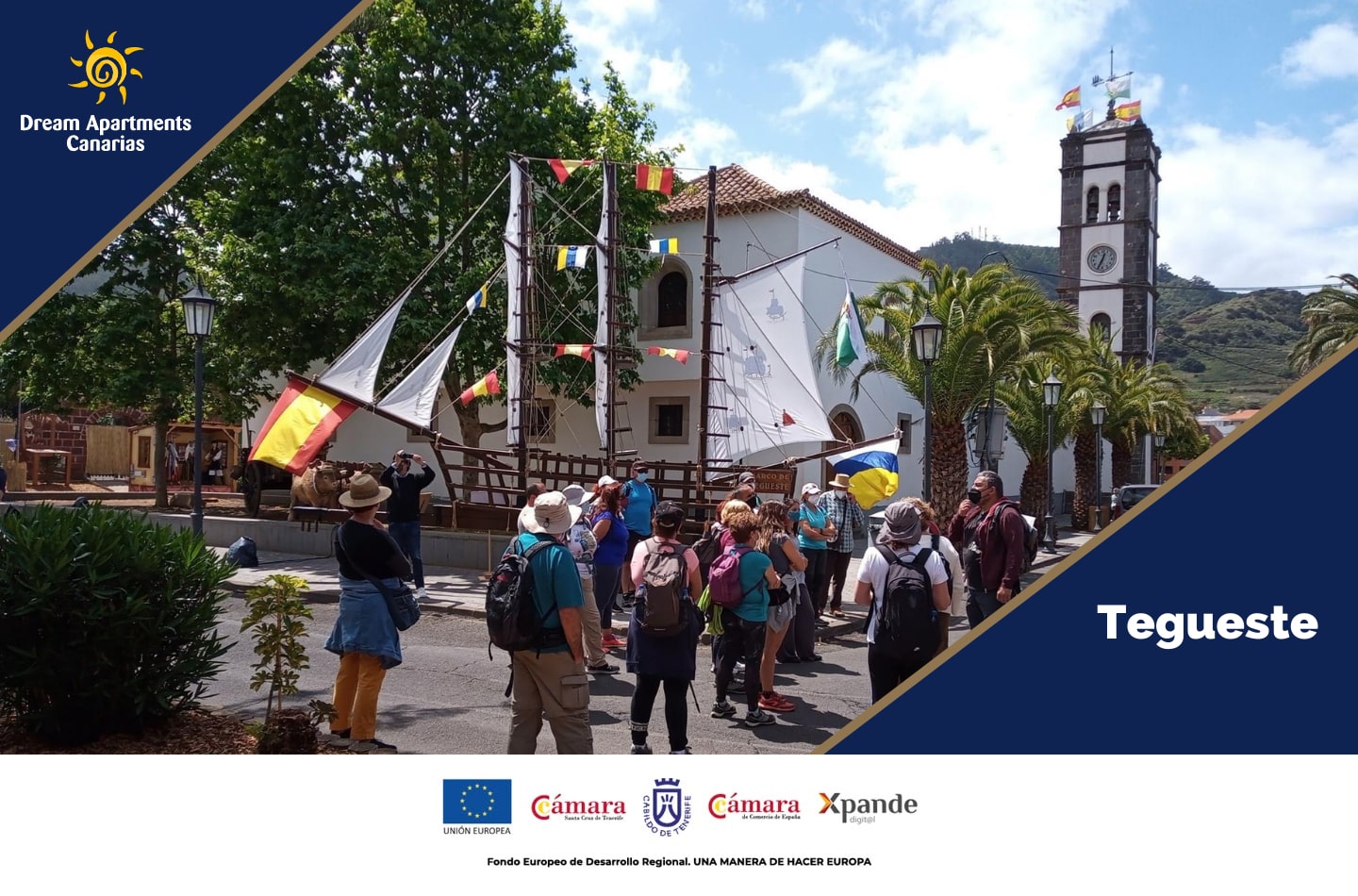 Do you like the nature, calm, tradition and culture of the island? Do not leave Tenerife without visiting Tegueste!
The old town was declared a Site of Cultural Interest in 1986. This is not a surprise because here you will find various parks, squares, churches and trails wrapped in laurisilva (laurel forest).
Each week, Tegueste also organizes guided tours in different languages around the historic centre and its surroundings so that tourists can learn more about its history and characteristics. You can check it on their website.
You should not leave Tegueste without having walked along the Camino de Los Laureles, a tree-lined path that preserves ancient species of laurisilva such as laurels, moncanes or barbusanos. Around it you will also be able to observe relevant buildings of the last centuries, as the estate of Los Zamorano or the Casa de los Tacoronte.
These are just one of the many places in Tenerife that will charm you and surprise you. You will feel the magic of Tenerife, absorb the culture and history of its people and enjoy multiple activities.
At Dream Apartments we offer accommodation in Santa Cruz adapted to your needs with excellent connections so you can reach all these places and more.
If you want to live the experience of touring Tenerife and visit these fantastic destinations, check out the apartments we have for you!