Tenerife is a perfect sunny destination. However, Tenerife offers you more than just getting tanned. Do you want to know more about this magical island? Keep reading!
Being the capital, Santa Cruz de Tenerife is a cosmopolitan and cheerful city, full of interesting places to visit. Moreover, and due to its geographical location, it is a place with great connections. If you want to visit the entire island, do not miss the opportunity to stay in this stunning city!
1. Beautiful beaches and sunny climate
Relaxing at the beaches in Santa Cruz de Tenerife and enjoying the sunny weather is possible whole year-round! The Canary Islands are close to the African coast, so over 300 days a year, the temperature is around 22ºC. That is why the islands are one of Europe's most perfect holiday destinations. 
You can cool off and enjoy saltwater pools in a gorgeous complex called Parque Marítimo César Manrique without leaving the city centre. Do not miss it!
Besides, one of Tenerife's most famous beaches is Las Teresitas, located 10 minutes away from the city centre. There are a lot of restaurants where you can eat a meal or take some drinks.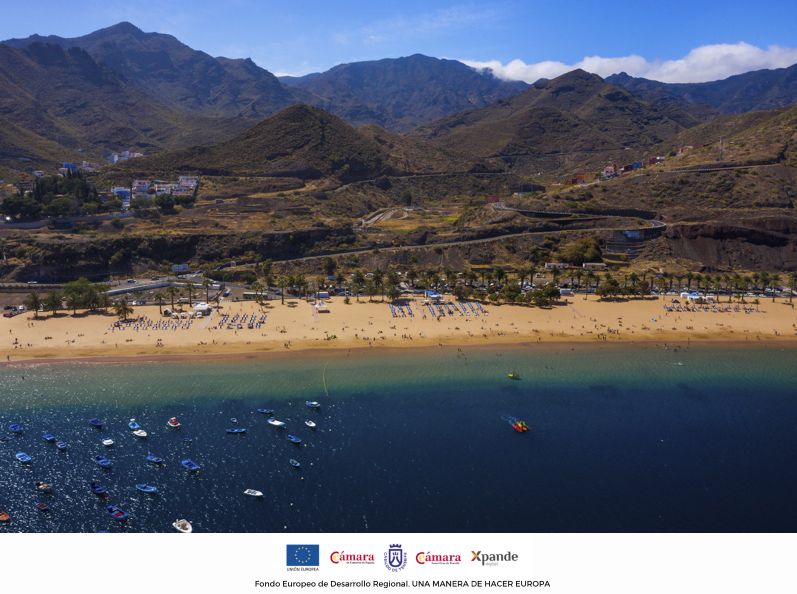 And not just that, you can choose between many beaches. There are three beautiful beaches in the small village Taganana, which conserves its natural look, called Roque de las Bodegas, Almáciga, and Benijo. 
2. Amazing contrasting landscapes
There are many microclimates on the island, sometimes it is like you travel to many different places, but all in one.  You can enjoy the sunny sky in the city centre and in less than one hour, go to another city, and feel cold. While the south-west is arid, warm, and dry, the north has generally cooler temperatures.
Moreover, you can walk above the clouds by driving up to Teide, the main volcano of the island. Tenerife's landscapes have been created by volcanic eruptions; this means its landscapes are stunning: you will feel as if you are on a different planet.
Santa Cruz de Tenerife, being the capital, is the most useful place to go to anywhere on the island you want to go and enjoy your trip. Besides, its climate is perfectly warm because of its proximity to the sea!
3. One of the best carnivals in the world
From the end of January to March, the most popular celebration on the island takes place in Santa Cruz de Tenerife. It is considered the second most popular Carnival in the world, after Rio de Janeiro's.
Carnival is an explosion of colour, music, and fun! Every year, more than 250.000 people head to Santa Cruz de Tenerife to celebrate it. 
It begins with several competitions: murgas (musical groups that usually sing about political and social criticism); comparsas (dancing groups with costumes); rondallas (carnival groups that play bandurrias, traditional canarian music, with a guitar); and the most important show: ''La reina del carnaval'', a spectacle to select that year's carnival queen.
After the Carnival Queen Show, the biggest parade announces the start of the carnival on the streets, and everyone heads out to party with their best costumes during an entire week.
4. Typical Canarian food
Traditional Canarian food is unique and delicious. If you want to eat like the locals in Tenerife, pay attention to these dishes: 
papas arrugadas con mojo: potatoes with a spicy sauce.
gofio: a famous canarian cereal.
polvito uruguayo: a sweet dessert made of cream, caramel and meringue. 
If you want to try them, Santa Cruz de Tenerife offers you a wide range of local restaurants, called guachinches. These places are not expensive, and they usually serve dishes with a considerable amount of food, you will not leave hungry!
Besides, a very delicious not-canarian food but usually eaten is the arepa, a flat and round cake made of cornmeal which comes from Venezuela and Colombia. There are many restaurants in Santa Cruz, which specialize in these dishes.
5. Fairy-tale laurel forest of Parque Rural de Anaga
Anaga Rural Park is a mountainous area with a beautiful ancient type of forest called Laurisilva. This place covers the north-eastern part of the island, and UNESCO designated it as a World Heritage Biosphere Reserve.  The place has many walks that criss-cross the zone to make you feel like a real fairy tale.
If you are in Santa Cruz de Tenerife, you just need to take a bus, and, next, you will be enjoying the magic!
6. Outdoor activities for nature lovers
If you are an adventure sports lover, Santa Cruz de Tenerife is a perfect holiday destination for you as you can do some exciting activities like the following: 
7. Leisure activities and entertainment at nightlife
Santa Cruz de Tenerife is a vibrant space of activity. There are many excellent restaurants and pubs around. If you are a social butterfly, the city is waiting for you. 
Avenida Anaga, a long street in the city centre, is full of overflowing pubs where you can enjoy some cocktails and drinks.
8. The city 
The capital has many beautiful places like parks, streets, and squares. The top sights are the following:
Mercado Nuestra Señora de África
During your day, you can take a break in any of these places for lunch or just a cup of coffee.
9. Cultural and historic places (architecture, museums, festivals…)
Culture is alive in every part of the city. If you want to explore it, you should visit the following places:
Auditorio de Tenerife (Auditorium of Tenerife)
Tenerife Espacio de las Artes (TEA)
Museo de la Naturaleza y el Hombre (MNH)
10. Safe destination 
Safety should not be a concern. Staying in an apartment is the best choice due to its privacy and the few people that can be there. It is not like staying in a hotel, where there are a lot of different people. Furthermore, the locals are usually pretty friendly people that will make you feel at home. 
If you want to see everything that Santa Cruz de Tenerife offers you, we have a wide range of comfortable apartments where you can stay and enjoy your trip. Check them out on our website!