Tenerife is an ideal destination for outdoor activities thanks to the steadiness of its climate and the wide variety of tourist experiences it offers. Its natural features make up a unique landscape that is home to 43 protected areas, occupying almost half the surface of the island. 
If you are a nature lover and are looking to get to know and hike the island's trails with your family, this article is perfect for you. We will give you some tips on how to protect the environment, as well as its flora and fauna. This way, you will be able to enjoy a dream landscape with your family, leaving a positive impact wherever you go.

Hiking in Tenerife is one of the most enriching experiences you may want to have: the abundance of extraordinary landscapes will leave you speechless. In the network of trails page inside the Cabildo de Tenerife website you have at your disposal the list of approved trails that make up the network, from long-distance trails to others with a smaller and local route. 
Please note that to visit some of the protected areas that make up this trail network, you will need to obtain prior permission. For example, you would have to apply for a permit if you want to visit the Integral Natural Reserve of Pijaral in Anaga. In addition, we advise you to do it as far in advance as possible, since, sometimes, the number of permits is limited. 

Precisely, this limitation is due to the protection of the environment. For this reason and because these areas are unique, visitors must try to minimize their footprint. Therefore, before heading out on the route, it is crucial that you take this into account and that you tell your children where they are going and why it is important to take care of the natural space they are going to visit. This way, they will be able to enjoy this adventure without causing any damage.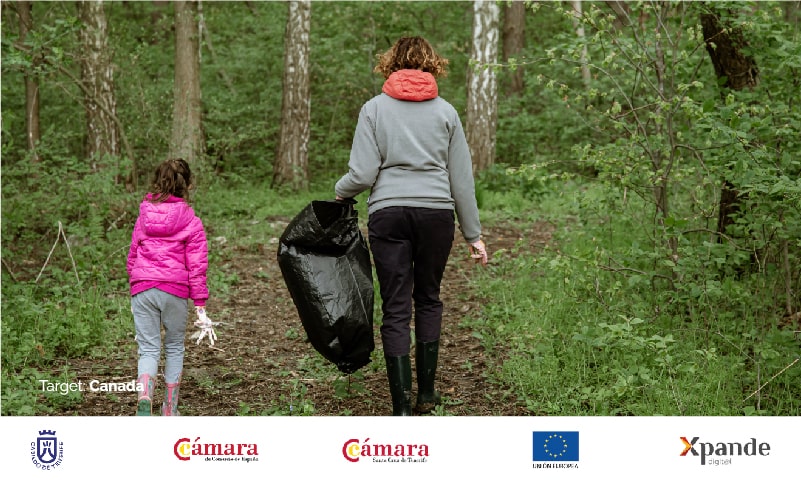 Here are some sustainable practices to keep your impact as low as possible:

You can bring a bag and gloves and encourage your children through games to pick up garbage. 
"Do not feed the animals, they get sick". Animals become accustomed to stop foraging for their own food and this disrupts their ecosystem. It also affects their health, since the food that is usually offered has nothing to do with their natural diet. 

Remind your children to watch their step: there are often slugs or snails crossing the path with you. You can encourage them to pick them up carefully and move them to the side of the path to keep them safe.
Some hikes connect to beaches. If you want to take a dip, we recommend, if possible, using a sunscreen that does not harm marine biodiversity. Remember not to leave garbage, even if it is organic, and if you have a pet, do not forget to pick up its waste. Additionally, always pay attention to the indications regarding bathing that the beach may have.
Avoid talking loudly and listen carefully to the sounds of nature. That will give you an immense sense of peace. 
As it is forbidden to alter the landscape, do not pluck flowers or remove or move stones or shells. We know it may seem insignificant, but the best souvenir you can take with you is the experience itself, accompanied by a photograph with your loved ones in the amazing landscapes that Tenerife offers. 
To get to the trail, use public transportation whenever possible. This will do your part to reduce traffic and air pollution.
If you have decided to live this experience to the fullest, we hope these tips have been of great help when it comes to activities and hiking trails with your family.
Finally, when you go to choose the place to stay, make sure it has good connections. From Dream Apartments we encourage you to book one of our apartments located in Santa Cruz de Tenerife, the capital of the island and an ideal location to move by public transport wherever you want. 
In addition, an apartment is ideal because you are the one who controls the waste generated, the water consumed… so it is a sustainable option.
What are you waiting for? Travel to Tenerife without leaving a footprint.